Research Topics
Jet Control using Coaxial Type DBD-PA
What we are aiming toward is to freely control jet. Therefore, we designed a circular nozzle with a DBD plasma actuator (DBD-PA) to control jet ejected from the circular nozzle. When AC high voltage is applied to DBD-PA, induced flow from DBD-PA is generated. Jet is controlled by this induced flow. Currently, we study how strength and frequency of induced flow lead to changes in the jet structure.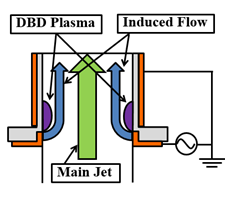 Fig.1 Circular nozzle with DBD-PA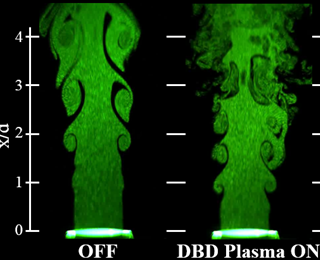 Fig.2 Jet is controlled by DBD-PA
Laminar Flow Premixed Flame using Coaxial Type DBD-PA
In this study, we created a coaxial type DBD (Dielectric Barrier Discharge) plasma actuator by incorporating a cylindrical electrode into a jet nozzle made of heat resistant ceramics (Fig. 1). DBD plasma is also called non-equilibrium plasma, and it is generated by applying AC voltage to the electrode shielded by dielectric. It is said that volumetric force called induced flow occurs with the generation of this plasma.
Our purpose is investigating the influence on the flame when applying DBD plasma to the burner nozzle. When using DBD plasma for flames, it was possible to keep the flame (Fig. 2). Therefore, the main research subjects are the influence of the induced flow, and chemical force of plasma on fuel.

Fig.1 DBD Plasma Actuator schematic

Fig.2 Behavior of flame due to change in applied voltage
Hydrogen Production by Effective Utilization of Solar Heat
With the increasing consumption of fossil fuel every year due to economic growth, we have focused on solar energy, which is one of renewable energy currently in demand.
In this experiment, using Fresnel lens, it use sunlight as thermal energy by irradiating the reaction tube containing zinc. Superheated steam is injected into zinc vapor generated by the heat so that oxidation reaction occurs using zinc vapor as a reaction medium, and hydrogen is generated. Thereafter, hydrogen is recovered by a sampling pack connected to the downstream portion of the apparatus. Furthermore, we aim to evaluate the conversion efficiency by thermal energy in this experimental apparatus by measuring the concentration and using the thermal energy stored in hydrogen.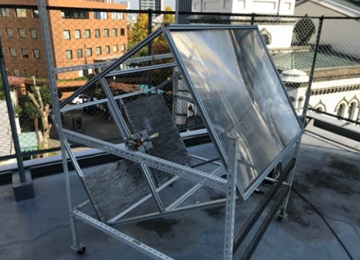 Figure.1 Appearance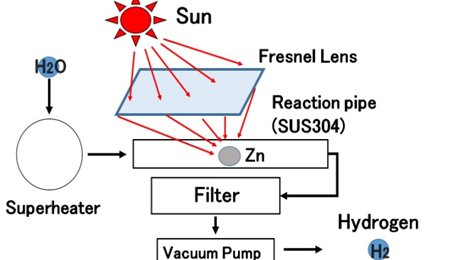 Figure.2 Experimental apparatus